Title
Curating on the web: Interfering with the assumptions of networked platforms and interfaces
Collaborators
Annet Dekker Marialaura Ghidini Joasia Krysa
| | |
| --- | --- |
| Start Date | End Date |
| 13/01/2022 | 14/01/2022 |
Place
Online — via Exhibition Research Lab, Liverpool John Moores University, Liverpool (UK) ⚈ Time: 9am to 1pm CET (Berlin) / 8am to 12pm GMT (London) / 1:30 to 6pm IST(Delhi)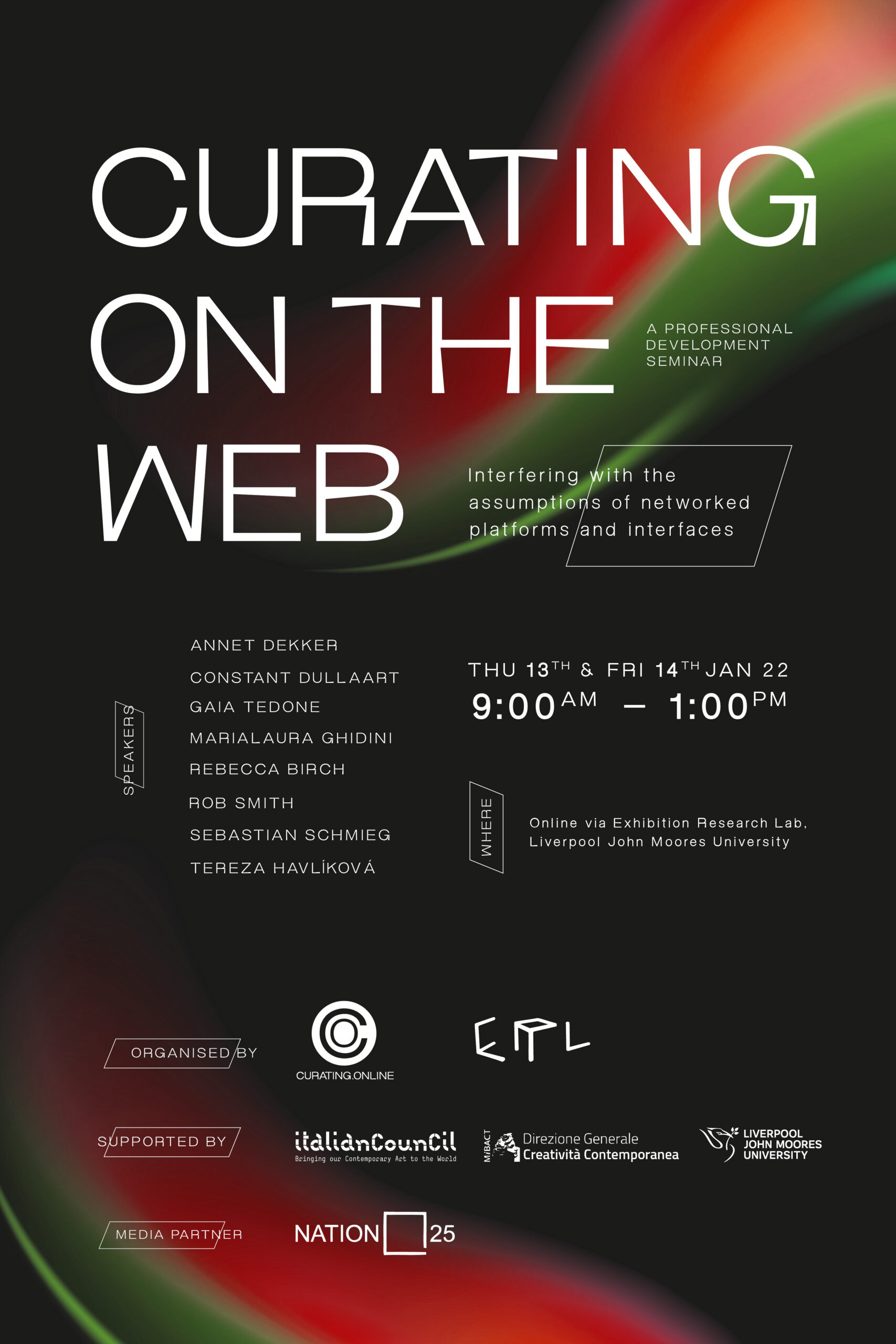 Description
This seminar focuses on curatorial strategies in the online environment, and the way they respond to the hyper-massification of the web by interfering with the assumptions and mechanisms of the platforms, interfaces and services of today's network.
Considering that the web has progressively become dominated by the logic of commerce and the relationship between the online and offline spheres have become increasingly blurred yet entangled, the seminar aims to explore the following questions:
How do we understand curating in the online environment today?
What does it mean to interfere with web platforms, services and interfaces, and their logic?
How does this allow curators to create different modes for displaying art, engaging with audiences, and opening up a reflection on our relationship with digital technology?
While exploring these questions through presentations by artists, curators and researchers (Rebecca Birch & Rob Smith of Field Broadcast, Constant Dullaart & Tereza Havlíková of distance.garden, Sebastian Schmieg of Gallery.Delivery, and researchers Annet Dekker, Marialaura Ghidini and Gaia Tedone), the seminar will also open up a discussion about the legacy of such projects, and the methods curators may adopt for researching and archiving work that takes place in the ever-changing landscape of the web. Discussions will accompany the presentations, and a collaborative exercise will conclude the seminar.
The seminar is open to practitioners, researchers and students with an interest in digital curation and digital culture.
The seminar is organised by curating.online in partnership with the Exhibition Research Lab (ERL) at Liverpool John Moores University – Liverpool, UK.

The project curating.online is supported by the Italian Council (9th Edition, 2020), programme to promote Italian contemporary art in the world by the Directorate-General for Contemporary Creativity of the Italian Ministry of Culture.

Nation25 is our media partner.

SCHEDULE Day 1 : 13th January 2022 ⚆ 9:00-9:15

Introduction by Marialaura Ghidini (curating.online) & Joasia Krysa (Exhibition Research Lab)

⚆ 9:15 - 12:30pm: Exploring Strategies of Interference > Marialaura Ghidini & Gaia Tedone: #exstrange & Curatorial Consultancy with Cassini > Rebecca Birch & Rob Smith: Field Broadcast > Tereza Havlíková & Constant Dullaart: distant.garden > Sebastian Schmieg: Gallery.Delivery ⚆ 12:15 to 12:45pm: Creating archives to explore and discuss curatorial work on the web Annet Dekker and Marialaura Ghidini: The Broken Timeline & curating.online Day 2: 14th January 2022 ⚆ 9:00 - 9:15 Introduction to the exercise: Marialaura Ghidini & Annet Dekker ⚆9:15 - 10:45 Break-out groups for exercise ⚆10:45 - 1pm Presentations & Discussions
Documentation
DAY 1:
> 00:00:20 min ⚆ Gaia Tedone & Marialaura Ghidini discussing #exstrange and Curatorial Consultancy with Cassini
> 00:41:45 min ⚆ Rebecca Birch & Rob Smith presenting the work of Field Broadcast
> 01:24:05 min ⚆ Constant Dullaart & Tereza Havlíková discussing common.garden & distance.gallery
> 02:02:51 min ⚆ Sebastian Schmieg presenting the project Gallery.Delivery
> 02:31:54 min ⚆ Annet Dekker & Marialaura Ghidini discussing their work about archiving digital art
⚆ Final Remarks
SPEAKERS BIOS:            
Rebecca Birch is an artist working with film, live broadcast and narrative performance, across solo and collaborative projects to tell the stories of place-based encounters between people and ecosystems, and the corresponding entanglements of human and environmental timescales. This work is interdisciplinary in approach, and she is currently Visiting Scholar at Oslo School of Environmental Humanities, at University of Oslo. She has carried out exhibitions and projects at venues including Waino Aaltonen Museum Finland, ICA London, Municipal Gallery Arsenal Poznan, HMK Netherlands, CCA Glasgow and Banff Centre Canada. Since 2010 she has co-directed the live broadcast art project, Field Broadcast, transmitting live artworks direct from remote locations to computer desktops.
www.rebeccabirch.net
Annet Dekker is a curator and researcher. She is Assistant Professor Media Studies: Archival and Information Studies at the University of Amsterdam and Visiting Professor and co-director of the Centre for the Study of the Networked Image at London South Bank University. She has previously been Researcher Digital Preservation at Tate, London, core tutor at Piet Zwart Institute, Rotterdam and Fellow at Het Nieuwe Instituut, Rotterdam. She has published in numerous collections and journals and is the editor of several volumes, including Lost and Living [in] Archives. Collectively Shaping New Memories (2017, Valiz)
aaaan.net
Constant Dullaart's often conceptual work manifests itself both on- and offline. In his artistic practice, the Dutch artist reflects on the broad cultural and social effects of communication and image processing technologies while critically engaging the power structures of mega corporations that dramatically influence our worldview through the Internet. He examines the boundaries of manipulating Google, Facebook and Instagram and started his own tech companies Dulltech™ and common.garden as well as the online exhibition project distant.gallery.
Marialaura Ghidini is a curator and researcher whose work explores the intersections between art, technology and society. Since her PhD with CRUMB (University of Sunderland), she has been researching the field of curating online. Interested in exploring exhibition formats outside the gallery, Marialaura founded the curatorial platform or-bits.com (2009-2015) and curated projects such as #exstrange (2017) on eBay; Silicon Plateau (2015-) in a book; The C(h)roma Show (2014) in an electronics store in Bangalore, IN; 128kbps objects on digital radio basic.fm (2013) and Search Engine (2012) in public spaces in the city of Birmingham, UK. Marialaura is currently a research associate at the Exhibition Research Lab at Liverpool John Moores University.
marialaura-ghidini.hotglue.me
Tereza Havlíková (born in Prague) is an art historian and curator living in Berlin. Her research focuses on net art and digital art in a broader context of internet history and culture as well as online curatorial practice. She is a founding member of Zentrum für Netzkunst and a pioneer participant in the urban model project Haus der Statistik in Berlin. She is part of the team developing the online platform common.garden.
common.garden
netzkunst.berlin
Sebastian Schmieg investigates the algorithmic circulation of images, texts, and bodies. He creates playful interventions that penetrate the shiny surfaces of our networked society and explore the realities that lie behind them. In particular Schmieg focuses on labor, algorithmic management, and artificial intelligence. He works in a wide range of media including video, website, installation, artist book, custom software, lecture performance, and delivery service. Schmieg's work has been exhibited internationally at The Photographers' Gallery London, MdbK Leipzig, HeK Basel, and Chronus Art Center Shanghai. He lives and works in Berlin and Dresden.
sebastianschmieg.com
Rob Smith is a visual artist based in Newcastle, UK, with nearly 20 years of experience exhibiting work and developing arts projects since completing a post graduate diploma at the Royal Academy Schools, London in 2002. In 2019 he completed PhD research at Northumbria University with his thesis; Composing Doggerland: How can the North Sea inform new approaches to situated art practices in the context of the Anthropocene?
He has exhibited works, undertaken residencies and commissions nationally and internationally, showing work with Newbridge Projects, Newcastle, Wysing Arts Centre, Cambridge, Baltic39 Newcastle, Cardiff Contemporary Festival with PEAK arts, Clore Studio at South London Gallery with Incidental Unit, Siobhan Davies Studios, London, Den Frie Copenhagen & IMT Gallery, London.
Rob is a co-director and principal software developer for Field Broadcast (2010-present) an artist led project streaming live artwork from remote locations and working with multiple partners including National Trust, LUX and Bournemouth University. Since 2017 he has also been co-director of ArtHouses, an ACE funded project that hosts artworks in people's homes in Whitley Bay, developing unique situations for artists to work in.
robsmith.me.uk
Gaia Tedone is a curator and researcher with an expansive interest in the technologies and apparatuses of image formation. She completed her PhD at the Centre for the Study of the Networked Image, London South Bank University with a practice-based research entitled 'Curating The Networked Image: Circulation, Commodification, Computation' (2019). Around these themes she writes, teaches and organizes curatorial projects. She currently collaborates with the University of Applied Sciences and Arts in Lucerne, where she investigates post-photographic curating and algorithmic visual culture and is head of the laboratory of the Master of Museology, Museography and Management of Cultural Heritage at the Università Cattolica in Milan. Since this year she coordinates the Department of Painting and Visual Arts of the LABA in Brescia where she teaches the course of Performativity of Digital Culture.
www.gaiatedone.com