Title
CURATING ON THE WEB — New ways to imagine artistic production online
Collaborators
Matteo Cremonesi Gaia Tedone Marialaura Ghidini
| | |
| --- | --- |
| Start Date | End Date |
| 14/12/2021 | 14/12/2021 |
Place
MO.CA. — Centro per le nuove culture (Brescia, Italy)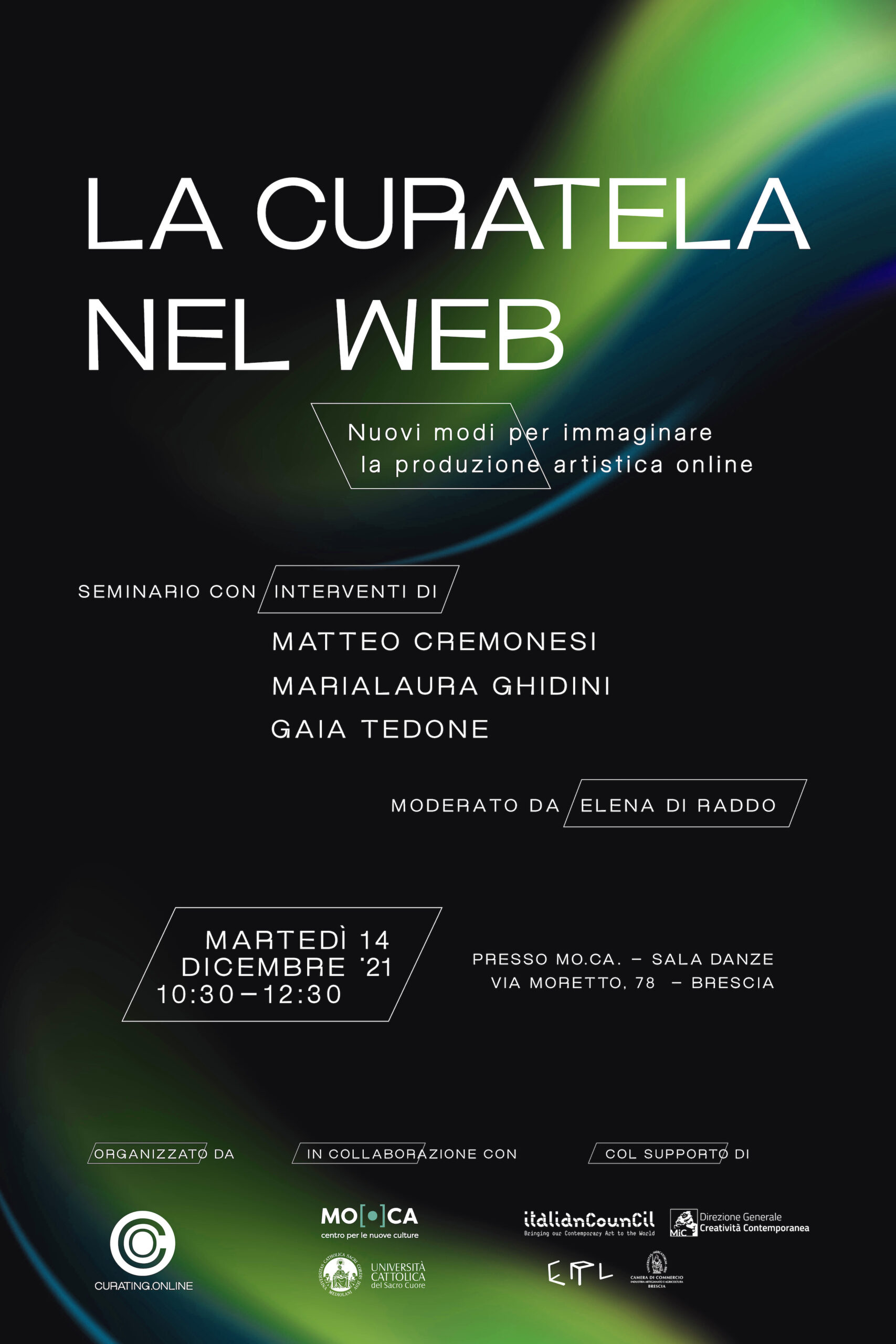 Description
CURATING ON THE WEB — New ways to imagine artistic production online With talks by Matteo Cremonesi, Marialaura Ghidini and Gaia Tedone. Moderated by Elena Di Raddo. Tuesday 14 December 2021, 10:30-12:30 at MO.CA. - Sala Danze Via Moretto, 78 - Brescia Free event with limited places.

(THE EVENT IS CURRENTLY SOLD OUT)

⚈ The event CURATING ON THE WEB — New ways to imagine artistic production online* aims to open a discussion on curatorial work on the web and discuss how curatorial interventions online have challenged traditional models and mechanisms for the production and display of contemporary art. The event offers a historical overview, and new perspectives and ways of imagining the contemporary art system and "being online", also through the presentation of curatorial projects organised by invited speakers. The event is intended for students and people interested in digital curating. * Event organised by curating.online in collaboration with MO.CA. and DAMS - Università Cattolica del Sacro Cuore. Project made possible with the support of the Italian Council (IX edition, 2020), a programme of international promotion of Italian art of the General Directorate for Contemporary Creativity of the Ministry of Culture. ⚈ PROGRAMME 10:30-10:45 Introduction to the event and the project curating.online (Elena di Raddo e Marialaura Ghidini) 10:45-11:15 Digital Odyssey: A Genealogy of Curating on the Web - Marialaura Ghidini 11:15-11:45 Curating a web page, the experience of Link Cabinet - Matteo Cremonesi 11:45-12:15 Curating between the Visible and the Invisible - Gaia Tedone 12:15:12:30 Concluding remarks ⚈ BIO RELATORS: Matteo Cremonesi (Brescia, 1984) is an artist and lecturer, working on contemporary art and technology, with a particular interest in the aesthetic, social and political impact of the Internet and new technologies on artistic research and contemporary culture in general. Since 2012 Matteo has taught numerous courses, workshops and seminars, he currently teaches at Accademia di Brera, Naba - Milan and Accademia di Belle Arti SantaGiulia in Brescia. In 2014 he founded Link Cabinet, the online exhibition space of Link Art Center, which he directed until its closure in 2019. She is a member of the IOCOSE group of artists with whom she has presented her work in several national and international venues. Gaia Tedone is a curator and researcher with a broad interest in image-making technologies and apparatus. She completed her PhD at the Centre for the Study of the Networked Image, London South Bank University with a research paper entitled "Curating The Networked Image: Circulation, Commodification, Computation" (2019). Around these themes she writes, teaches and organizes curatorial projects.She currently collaborates with the University of Applied Sciences and Arts in Lucerne, where she investigates post-photographic curating and algorithmic visual culture and is head of the laboratory of the Master of Museology, Museography and Management of Cultural Heritage at the Università Cattolica in Milan. Since this year she coordinates the Department of Painting and Visual Arts of the LABA in Brescia where she teaches the course of Performativity of Digital Culture. Marialaura Ghidini is a curator and researcher whose work explores the intersections between art, technology and society, in particular the way technology shapes behaviour, relationships between people and with the environment. Since her PhD with CRUMB (University of Sunderland, 2015), she has been researching the field of online curating, contributing her work to various publications, such as the book Curating Digital Art (Dekker, 2021), and journals such as Arts Journal (2019) and Journal of Curatorial Studies (2017). Interested in exploring exhibition formats outside the gallery, Marialaura founded the curatorial platform or-bits.com (2009-2015) and curated projects such as #exstrange (2017) on eBay; Silicon Plateau (2015-) in a book; The C(h)roma Show (2014) in an electronics store in Bangalore, IN; 128kbps objects on digital radio basic.fm (2013) and Search Engine (2012) in public spaces in the city of Birmingham, UK. Marialaura is currently a research associate at the Exhibition Research Lab at Liverpool John Moores University and a project and research collaborator for contemporary art and culture projects for the City of Brescia. BIO MODERATOR: Elena Di Raddo is associate professor of History of Contemporary Art at the Università Cattolica del Sacro Cuore in Milan and Brescia. She is in the steering committee of the Centro di Ricerca sull'Arte Astratta in Italia (CRA.IT) and responsible for the "art" section of the research project "Towards a new humanism. Beyond algorithms: interdisciplinary research on change". Her areas of interest are mainly late nineteenth and early twentieth century painting, European abstract art and Italian/European art of the '60s and '70s. She has been scientific consultant for museums and has curated several exhibitions for public and private institutions. She writes for news magazines, periodicals and art journals.
Documentation